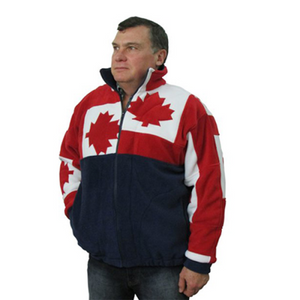 ADULT MAPLE LEAF PATCHWORK BOMBER JACKET NAVY
Regular price $129.00 $129.00 Sale
ADULT MAPLE LEAF PATCHWORK BOMBER JACKET NAVY
Our Maple Leaf Patchwork Collection has become My Ol' Blues most recognized product  since 1997. 
Every product in the collection is a one-of-a kind item. 
We quilt the upper into a continuous roll then cut each piece individually, so you never know where a Maple Leaf may fall...
We cut and applique all our Maple Leafs!
Adult sizing means unisex..so if you take a mens large, our large will fit! 
If you take a ladies large(14-16) our medium is the size for you!
The jacket has a boxy shape with a drop shoulder to fit the average man or woman.
Each jacket has zippered pockets and an elasticized bottom.
The lower half is available in solid red or navy.
100% Polyester fleece
Machine Wash Cold/Hang to Dry
Made on Manitoulin Island, Canada
Prefer personal service, call us today or email us and we can make ordering easy 1-800-230-6545 or sales@myolblues.com